Some violinists swear by it, others despise it: the shoulder rest. Until the 1950s it was hardly in use. Nowadays it has become very common. A shoulder rest increases playing comfort, especially when you have long, intense music sessions. 
Because every player has a different posture, there is a wide choice. There is a shoulder rest for everyone's requirements and budget. In this article we have made a selection of the most commonly used and our favourite shoulder rests. The choice of your shoulder rest also has a big influence on the sound. It is therefore important that you find one that suits your body, playing style, instrument and budget. 
There are various types of shoulder rests. Some are more curved than others, you have thick soft pads or thin, compact ones. The material is usually wood, nylon or another type of plastic. There are even inflatable cushions. They do not last as long, but they can be adjusted to the player's needs. There are people who are very satisfied with a simple sponge on an elastic band, but the vast majority will feel most comfortable with a shoulder rest. It is worth trying out some shoulder rests before making the decision to buy one. Have a word with your string players acquaintances, you're sure to find lots of different shoulder rests!
The budget topper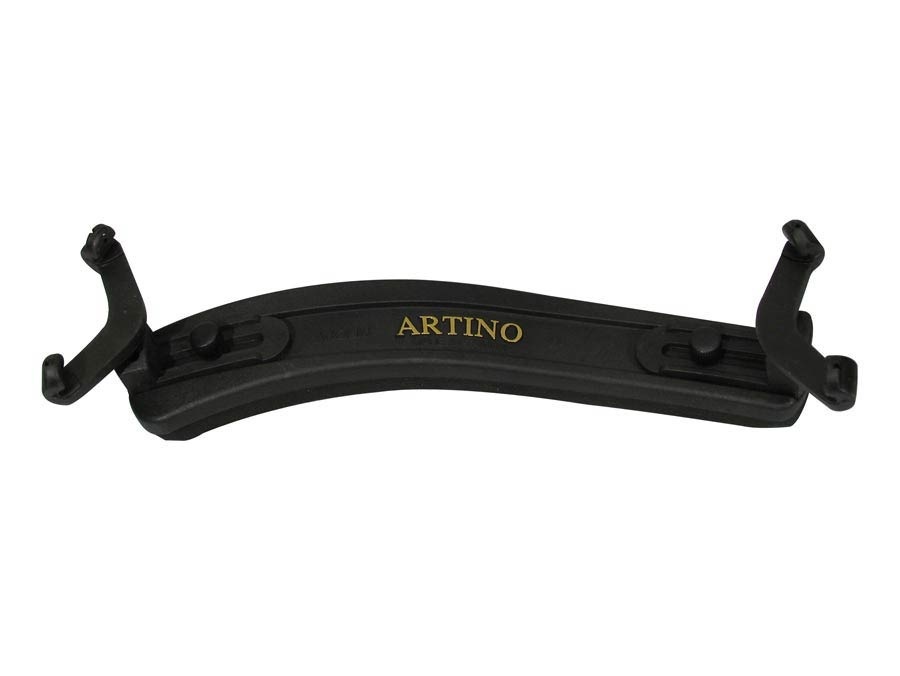 Artino shoulder rest
We'll get straight to the point. Artino is known as a brand that makes high quality products at the best price. This shoulder rest is no different. With its soft foam cushion and adjustable legs, it is very comfortable. The nylon base is not as wide as, for example, a Wolf Secondo, but it nevertheless has a more than large enough contact surface to provide a balanced posture. As an additional advantage, it is less heavy. 
The rubber feet provide a stable grip on the instrument, with no chance of damaging the varnish. If you adjust the shoulder rest too narrow, you have to be careful that you don't 'cut off' the sound with these wider legs. 
For beginners, looking for a stable shoulder rest this is an excellent choice! The shoulder rest is also available from instrument size 1/8, up to 4/4 and even for large size viola.  
The elegant price breaker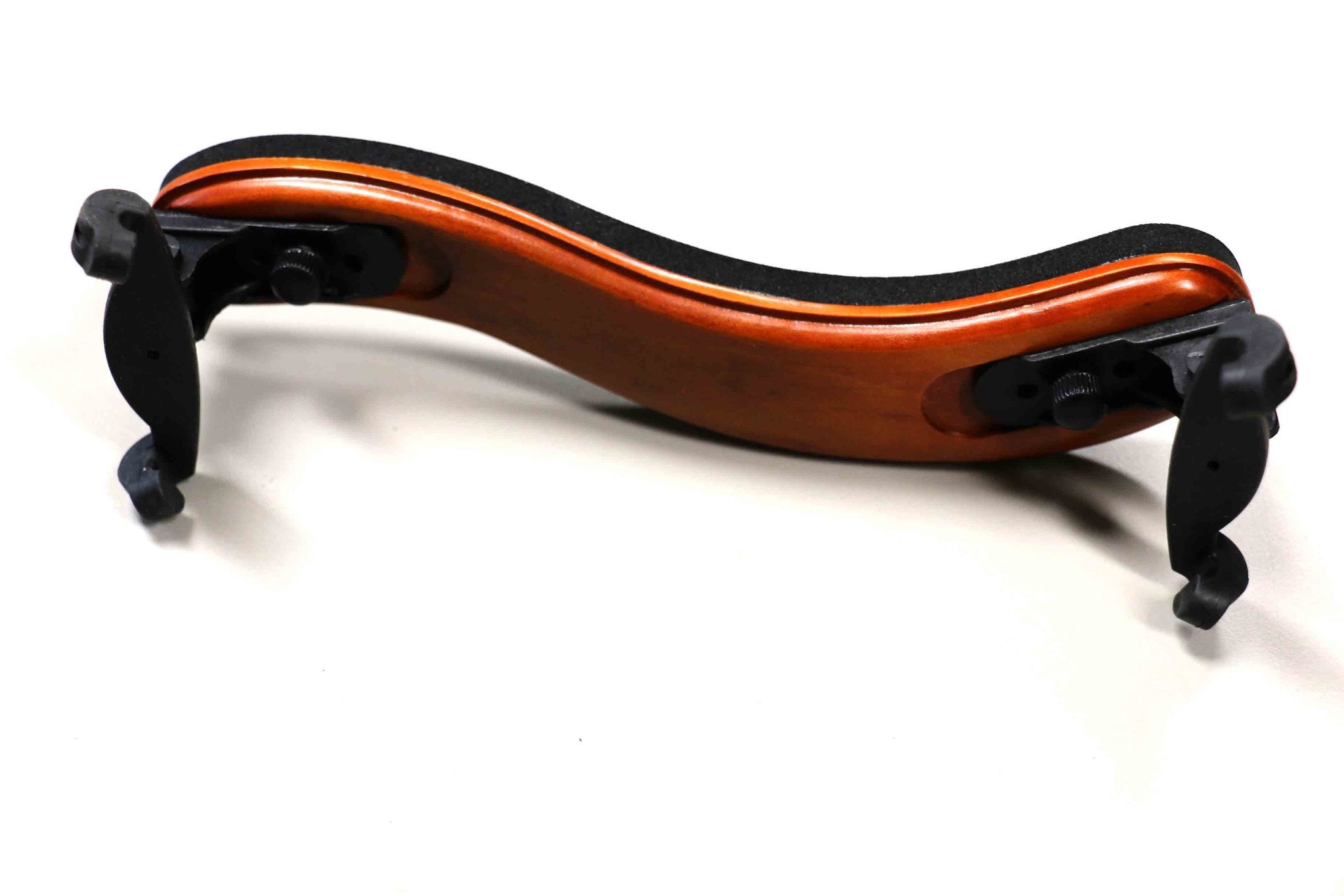 4strings shoulder rest wood
Are you looking for a compact shoulder rest that looks elegant and is also ultra-comfortable? Look no further: the 4strings wooden shoulder rest has all these qualities! Moreover, it is not expensive, making it our first choice for the beginning and more advanced violinist with a 4/4 violin.
When you take a closer look at this shoulder rest, you will immediately notice that it is made of sturdy, lightweight wood. This gives it a premium look. The feet can be folded inwards, so that you can easily store it in more compact cases. The ergonomic curve of the wood and the thick foam cushion provide good support for the instrument.
The shoulder rest is officially only available for 4/4 violin, but the adjustment system with screws allows you to make it narrow enough for a 3/4 size. 
The practice buddy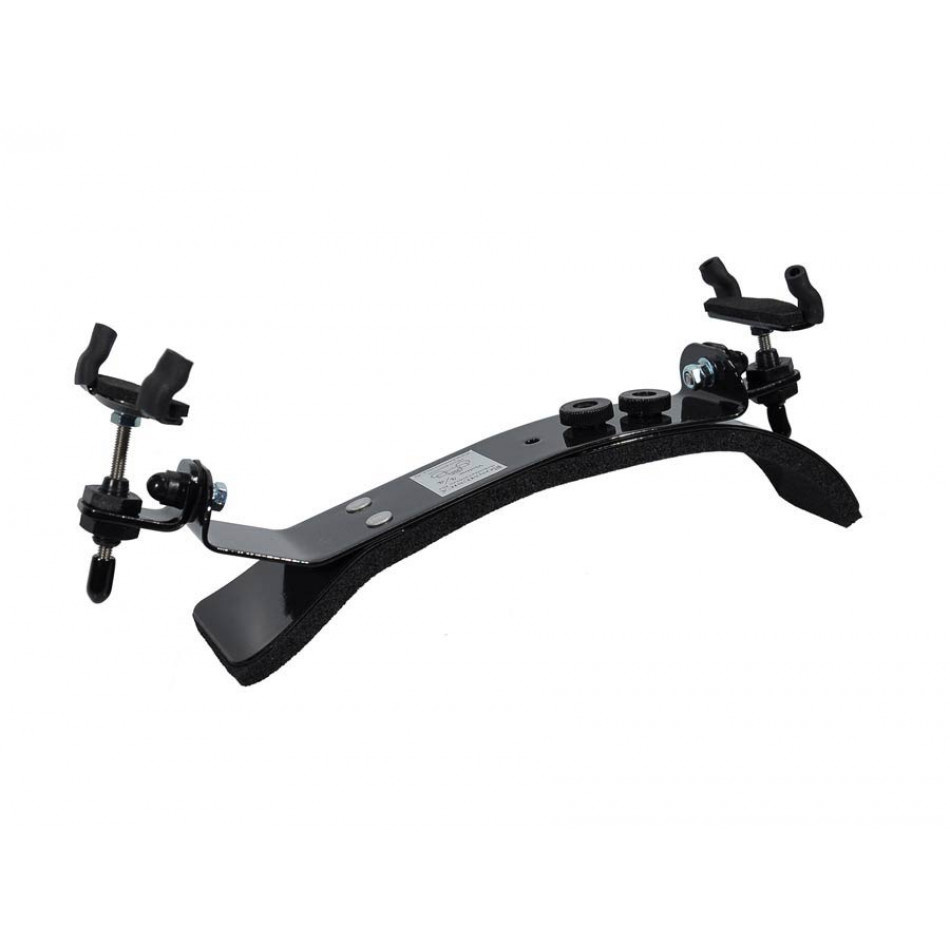 Bonmusica shoulder rest
A special one is the Bonmusica shoulder rest. This support 'grips' around the shoulder, as it were, so that your violin or viola stays in the right place without any effort. Opponents of this shoulder rest sometimes say that it limits the mobility of the instrument. However, for long, intense study sessions, this is an ideal practice buddy. The sturdy, adjustable metal structure - which also makes it the heaviest in the range - ensures that your instrument can remain on your shoulder with a minimum of effort. It is therefore extremely important that this support is perfectly adjusted, otherwise you can quickly suffer from a sore shoulder due to an incorrectly balanced weight. A well-known adept of this shoulder rest is Hilary Hahn.
Available for 4/4 violin and 4/4 viola. The feet are stepless adjustable in height and the structure can be moved sideways. This means that this shoulder rest can be adjusted to suit any body.
The old classic
Kun Super shoulder rest
Perhaps the best-known designer of shoulder rests is Kun. Every violinist has used a shoulder rest from this brand at some point in his or her career. This is not without reason. Kun's products guarantee a long life and a comfortable position. The Kun Super shoulder rest was upgraded some time ago with new legs. These legs are now also available (separately) in an XL size, for people with longer necks. Kun has a solution for everything.
The Kun Super shoulder rest is characterized by its elegant, streamlined design and by a simplified adjustment system to allow enhanced adaption. This lightweight model is one of the best-selling shoulder rests, available for violin 4/4 or 3/4 - 1/2, and for viola (4/4).
Good to know is that this shoulder rest also exists with folding legs, for easy storage in compact cases.
The softest choice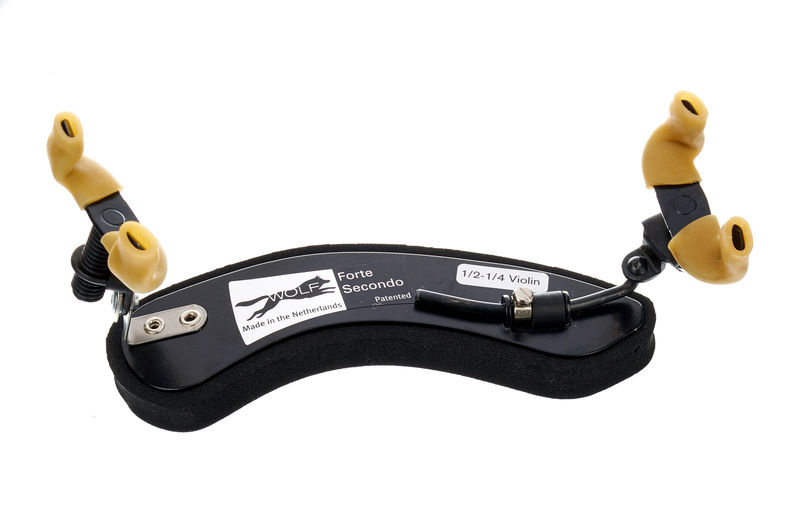 Wolf Secondo shoulder rest
This shoulder rest is one of the most popular among violin students. The wide, curved contact surface with the ingenious adjustment possibilities and low price make it an attractive option. With this shoulder rest, the instrument lies very stable on the shoulder and the soft cushion makes violin playing an effortless experience. For beginners - especially children - this is an ideal shoulder rest, because it really cannot be broken and the shape invites to a nice, straight posture.
The big size and choice of material of the shoulder rest makes it relatively heavy, which slightly dampens the sound of the instrument. But in normal circumstances this is hardly noticeable.
This support is available in all sizes, including the very smallest - from 1/16 to 4/4 violin and viola.
The show-off

Viva La Musica Diamond shoulder rest
Viva La Musica has over 30 years of experience designing accessories for stringed instruments. With the 'Diamond' shoulder rest they have designed a real winner, which is used by many professionals and soloists. The finest walnut wood with the best acoustic properties has been selected for this shoulder rest. This shoulder rest is a real eye-catcher with its golden finish and ergonomic, elegant appearance. Depending on the look of your instrument and personal preferences, this rest can also be supplied in other woods, white or black feet and with black metal legs. 
Viva La Musica has developed a sophisticated, patented system for the legs. The metal, resilient parts ensure that the sound of the instrument is not squeezed, even under extreme concert conditions. From our own experience, this benefits the sound greatly. With the 360° system, you can fold down the legs to store the shoulder rest easily. When you then install your shoulder rest back on your violin, you don't have to readjust it. 
One of the most recognizable and stylish shoulder rests, which is very cleverly and ergonomically designed for a relatively low price. Available for 4/4 and 3/4 violin (1 size) or viola 4/4.
The slender gracefulness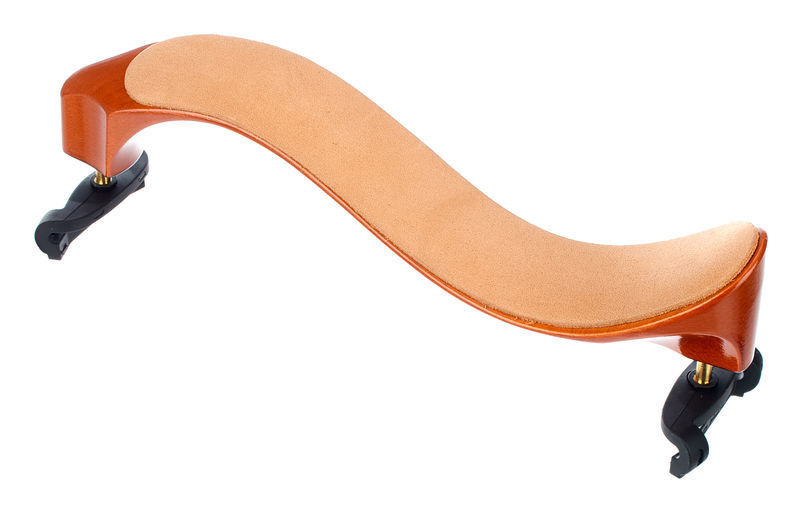 Mach One shoulder rest
A special looking shoulder rest is this Mach One. The world famous luthier Peter Mach has completely redesigned the idea of the shoulder rest. From the shape of the wood to the material and attachment system on the instrument, he has succeeded in creating an alternative fit for a shoulder rest. The beautiful maple wood matches the colour of a violin or viola very well and also helps to carry the vibrations acoustically. The leather cushion is durable and contributes to a more luxurious look.
This Mach One is the most curved of the range. Some users find that the support 'forces' them into a certain position too much. However, if this position follows your posture and playing style, you will find this shoulder rest incredibly comfortable. A variant of this support has a so-called 'hook-end' that goes all the way over the shoulder. This shape provides even more stability than the version without a hook.
Available for violin 4/4 and viola 4/4. When choosing a viola rest, make sure you select the right width for your instrument, as the shoulder rest is only adjustable to a limited extent. 
The Rolls-Royce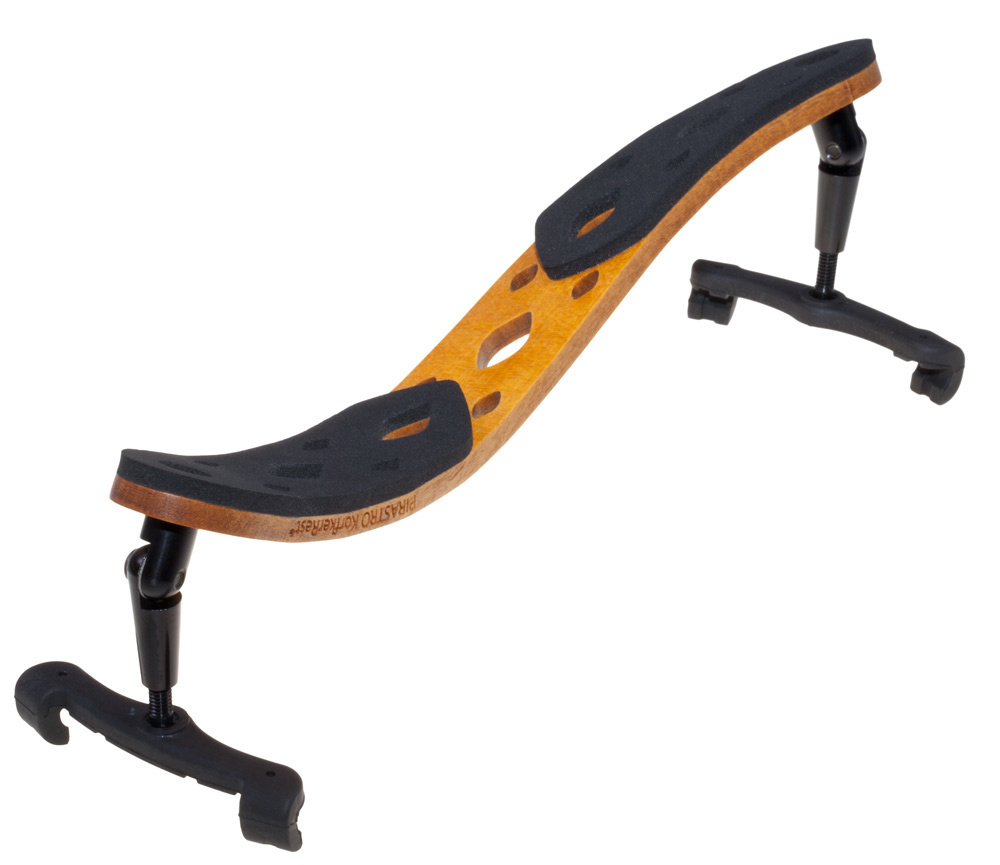 Pirastro Korfkerrest
Pirastro's KorfkerRest is the Rolls-Royce of shoulder rests! This extremely lightweight shoulder rest (32 grams for the violin, 40 grams for the viola model) consists of pliable maple wood that you can mould completely to your own wishes. There is no other shoulder rest that can be adjusted in such detail to the player's wishes. The meticulously designed legs offer extensive and very precise adjustments of position, height and tilt. With the Pirastro Korfkerrest you can be sure of the ultimate comfort.
Not only is the comfort exceptional, but the timbre and articulation possibilities of your instrument improve with this shoulder rest. The sparse use of rubber in the legs ensures minimal vibration damping. The exceptionally low weight contributes to this. No detail has been overlooked in the design of this shoulder rest. 
The only drawback: the price. The Pirastro Korfkerrest - for 4/4 violin and viola only - is by far the most expensive shoulder rest in the range. However, you get a unique playing experience in return.