Viola strings Thomastik-Infeld Spirocore
Spirocore viola strings are very powerful, projecting metal core strings with a spiral core. Available with different windings and tensions.
This item has been added
Viola strings Thomastik-Infeld Spirocore
€63,25
Thomastik-Infeld Spirocore a powerful, well-balanced and in terms of sound maybe the loudest string set. The wound spiral core is responsible for this. Amongst viola players the chrome and silver wound G strings are very popular, as well as the silver and tungsten/wolfram wound C string. They are available in tensions medium, heavy and light, so you can easily match them with the needs of your instrument.
Flexible multiwire spiral rope core
Very projecting sound
Long life-span
Very good responsiveness and elasticity
The chrome steel wound strings are also available for larger violas (VSL 38cm to 42cm)
The standard set contains following strings:
A string: metal spiral core, chrome steel wound
D string: metal spiral core, chrome steel wound
G string: metal spiral core, chrome steel wound
C string: metal spiral core, chrome steel wound
Extra options:
A string aluminium wound: slightly warmer, rounder sound than chrome wound A string
D string aluminum wound: slightly warmer, rounder sound than chrome wound D string
G string silver wound: thinner string with more overtones than chrome wound G string
C string silver wound: thinner string with more overtones than chrome wound C string
C string tungsten/wolfram wound: fuller, deeper sound with broader overtones than chrome and silver wound C string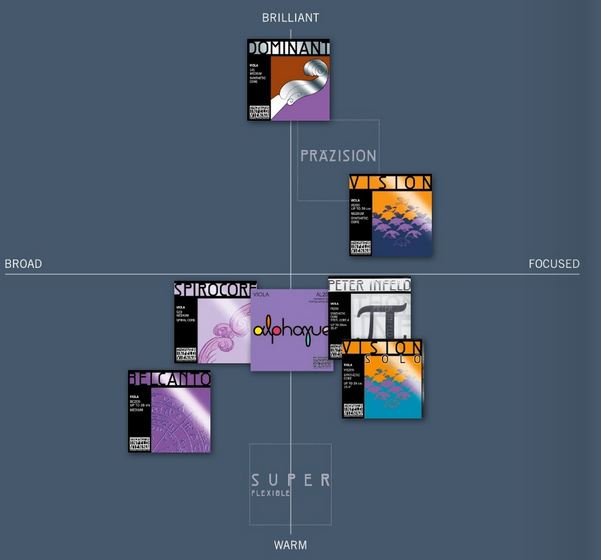 | | |
| --- | --- |
| A string material | Steel, chrome steel wound (set string) or aluminum wound |
| D string material | Steel, chrome steel wound (set string) or aluminum wound |
| G string material | Steel, chrome steel wound (set string) or silver wound |
| C string material | Steel, chrome steel wound (set string) or silver wound or tungsten/wolfram wound |