Violin strings Lenzner Optima Goldbrokat Premium
The Lenzner / Optima Goldbrokat E string continues the success of the classic version. This premium E string uses a new special steel, which results in very good resonance and a brilliant yet warm sound.
This item has been added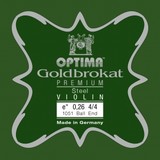 Violin strings Lenzner Optima Goldbrokat Premium
€3,95
The Lenzner Optima Goldbrokat Premium uses a new special steel which quality and sound characteristics set new standards. The surface is extremely uniform, the string has a very good resonance. Its sound is brilliant but yet warm. Insensitive to external infl uences, this string has a very long durability.
String thickness:
Medium tension: 0,26mm
Heavy tension: 0,27mm
Extra heavy tension: 0,28mm
Light tension: 0,25mm
| | |
| --- | --- |
| E string core | Steel, unwound |
How to order?
Select in the first field the size of your instrument (if applicable).
In the second field you can choose the type of string. You can order a full SET or individual strings.
In the third field you can select the tension you would like, if applicable.
Ball or loop end?
E strings on a violin and A strings on a viola can come in two versions: with a ball end or with a loop end. The ball end string has a small ball at the end that you insert into your (finetuner) tailpiece. A string with a loop end has a small loop that fits over a small hook on the E or A string side of your finetuner tailpiece.
Read more here!
Which tension?
Medium tension: this is the most used tension, because the manufacturer has taken it as a standard that works well for most instruments. If you're not sure which tension you need, always take medium tension.
Strong tension: thicker string, that usually sounds louder than medium tension but is less responsive and more difficult to play.
Light tension: thinner string that sounds slightly less loud, but usually is more responsive and easier to play.

Read more here!